Justin Sawyer, one of our contributing writers has a few hidden talents.
One of them is graphic design and as one of his latest projects he has put together this pretty cool set of quality "Social People" social media icons and made them available for bloggers and website owners everywhere.
These icons are free for anyone to download using the button below and use on a blog, website or other projects with no restrictions except one – Justin requests that you please do not sell them.
Here is a preview image of the set: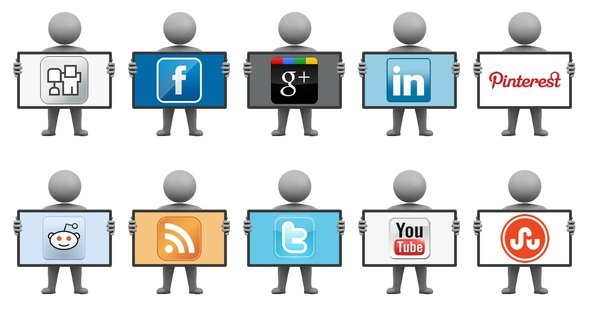 As you can see, the "Social People" media icon set includes the following:
Digg
Facebook
Google Plus
Linked-in
Pinterest
Reddit
RSS Feed
Twitter
YouTube
StumbleUpon
They have been designed to work nicely on most coloured backgrounds:
They also come in the following 6 sizes:
256×256 px
128×128 px
64×64 px
48×48 px
32×32 px
16×16 px
And these 2 formats:
.png
.ico
That works out to a total of 120 free icons for you! Don't get cheaper than that.
(.zip file – size =909 KB)
Once again, these icons are free for you to download but NOT to sell please.
You are welcome to comment or thank Justin for this set of icons in the comments below and if you find them useful, please go ahead and share with your Facebook friends, followers, Tweet about them and help spread the word.
Justin will try to respond to all comments or any questions below when we can drag him out of the sea..! (he's a surfer)