If you are looking for a second hand car, motorcycle or 4×4 at a decent price, have a look at the used vehicles at Imperial Select car sales.
There are a number of second hand vehicles of all different types, makes, models and in a range of different states of repair. You will find the right vehicle for you if you know where to look.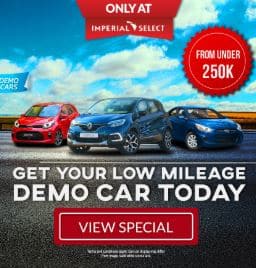 Firstly start by performing a search for Imperial Select car sales with the minimum and maximum price range. After that you will see the vehicles available within your budget.
For example, you are looking to buy a vehicle between R20 000 and R50 000 therefore you would select R20,001.00 in the minimum field and R50 000.00 in the maximum field.
After that click "Next" you will then be presented with different makes of cars. Such as Renault, Toyota, Opel and Honda to choose from.
Secondly now you have selected the make/s of vehicle/s you are interested in purchasing. After that click the "Next" button again and the database will be searched for all models for sale in South Africa that match your requirements.
Thirdly after doing the search online at imperialselect.co.za, if you still cannot quite find the vehicle you would be interested in purchasing. You can reset the price range to change the list of second hand cars for sale in South Africa.
Alternatively you can have a look through the various specials they often have on offer which can be found on the websites specials page.
No matter if you are looking for a branch in Cape Town, Durban, Johannesburg or wherever else in SA. You are guaranteed quality and a good deal by buying a vehicle through the Imperial Select car sales company.
About Imperial Select Car Sales
Imperial Select is a well-known, reputable vehicle dealership. In other words they have a long standing, happy and satisfied base of customers who give them good reviews. Moreover they sell many different types of vehicles and offer competitive prices.
Imperial Select offers many different makes of car are available including:
Alfa Romeo
Audi
BMW
Chevrolet
Chery
Citroen
Daihatsu
Dodge
Fiat
Foton
Ford
Geely
GWM
Honda
Hyundai
Isuzu
Jaguar
Jeep
Kia
Lexus
Mahindra
Mazda
Mercedes Benz
Mitsubishi
Mini
Nissan
Opel
Peugeot
Proton
Renault
Seat
Ssangyong
Subaru
Suzuki
Tata
Toyota
Volkswagen
Volvo
Zotye
Why buy a second hand vehicle?
Vehicles are incredibly expensive which means that most individuals will have trouble affording a brand new car. Because we all need a reliable for of transport that will be sure to get us from A to Z every day. Moreover almost everyone prefers owning their own vehicle over public transport.
However a second hand vehicle is generally much cheaper than a brand new car. In addition there are a great number of places to find second hand vehicles including at second hand dealerships, in classifieds advertisements sold by private owners and at repossessed vehicle sales.
Disadvantages to buying a used vehicle
The downsides to purchased a second hand vehicle include the following:
Cars will not look as nice and new and may have some aesthetic damage and wear and tear.
The vehicle will have some mileage on the clock making it much less valuable.
Because of age, wear and tear and possible previous accidents and breakages, the vehicle may therefore have existing problems or may be prone to problems.
The vehicle will probably not have an intact service plan or warranty, therefore you will have to cover any costs for maintenance and repair.
Second hand dealers and private sellers of used cars have been known to be deceitful about the state of the vehicle. Similarly, they may be covering up a problem under the bonnet that you will not find out about until you have already paid for the car.
How to find details of Imperial Select Car Sales
You can find details about Imperial Select vehicle sales on their website. In addition, there are several different branches of Imperial Select throughout the country. Therefore you will have a branch near you.
Visit the Imperial Select website on www.imperialselect.co.za for more information or to get in contact with the company. Imperial Select also offers specials on vehicles regularly.
If you visit the Imperial Select website to search for a vehicle, you can narrow down your search criteria by make of vehicle. Also the model of vehicle as well as province that the vehicle is available from and minimum and maximum prices.
What to keep in mind when looking at used vehicles
In conclusion, it is important to make sure that you take the following steps to ensure that any second hand vehicle you may be interested in is worthwhile.
Inspect the vehicle thoroughly BEFORE you pay any money for it or sign anything.
However, if you are not a motor expert, take one with you to help you check for flaws and faults.
Ask for the VIN number and papers of the car to double check that it is not a stolen vehicle.
Take it for a test drive.
Don't over spend. In other words, do not go over your budget!