The well-known SMD car auction company has been around for a long time. And have established their name when it comes finding the affordable alternative when purchasing a vehicle. The vehicles you find at SMD are sold with the help of insurance companies, and also private sellers.
SMD auction cars online with vehicle stock in the following locations:
Bloemfontein
Boksburg
Cape Town
Chamdor
Durban
East London
Nelspruit
Polokwane
Port Elizabeth
Pretoria
Sandton
Vereeniging
Models are sold back to people at prices they can afford. You will be able to find automobiles for sale with an average price of R30,000 to R50,000. These prices will be able to fit your pocket very easily.
When looking at the used cars sold at SMD, depending on the state of the vehicles, you can expect prices ranging from R5,000 to R200,000 plus.
Not to be confused with MSD auctions. MSD cars are a different company, this is SMD cars in South Africa.
This may also be of interest to you: Repossessed Motor Cars Auctions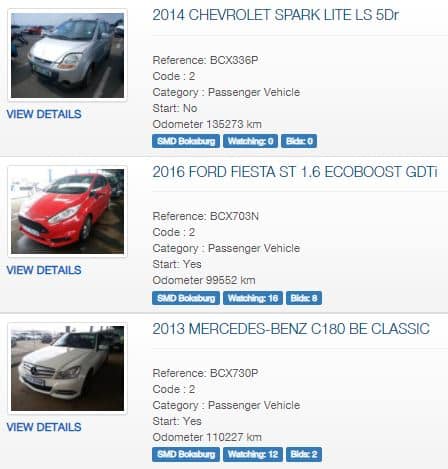 SMD Car Auction Vehicles
If you are looking for a specific Toyota or Nissan bakkie, you should definitely attend the SMD car auction to see what used cars are for sale.
Some popular makes for sale at SMD cars are:
Ford
Subaru
Audi
Renault
Hyundai
Toyota
Nissan
BMW
Isuzu
Jeep
Mitsubishi
This is one of the preferred online repo car auctions in South Africa. SMD does assist when it comes to preparing a vehicle, but they have made it easy to buy a car.
If auctions are not for you, SMD has introduced an online daily sales method that should be satisfying. They only accept cash when it comes to all salvage automobiles for sale.
However, SMD has payment methods when purchasing a used car. All you need to do is speak to one of their sales people.
SMD has made viewing bakkies such as Toyota or Nissan very simple by visiting their showrooms online and seen what vehicles they have in stock.
So visit their website https://www.smd.co.za/ for more details. Don't go anywhere else when it comes to finding the best repo car auction in South Africa. Because SMD car auctions have the perfect payments plans that wont dent your pocket. As well as some of the more popular model vehicles for you.
Browse the site and compare the cars and prices at SMD to find the vehicle to suit your budget.
Check this out: Get Bank Repossessed Cars at Wholesale Prices