The best car auctions in South Africa are those that offer both online car auctions and offline events. We have done the research for you and found some of the top vehicle auction events that auction cars in the country.
Our list of 7 best car auctions is as follows:
Aucor Car Auctions
Wesbank Car Auctions
Autoworld Car Auctioneers
Bidvest Burchmores Car Auctions
MFC Car Auctions (Nedbank)
City Wheels
SMD Car Auctions
Plus information on one that doesn't actually exist – Capitec Car Auctions. See below.
There are a wide range of cars available on auction in South Africa nowadays. Meaning that more and more people are choosing to buy cars through vehicle auctions rather than traditional dealerships.
With an increase in demand for auction cars comes an increase in auction dealers to sell them. South Africa is home to a number of different vehicle auction dealers.
Our top 7 car auctions (in no particular order) are as follows:
Aucor Car Auctions
Aucor offer online auctions as well as offline events at warehouses.
You can find Aucor Car Auctions in the following locations:
Bloemfontein
Cape Town
Durban
Johannesburg
Limpopo
Port Elizabeth
The Northern Cape
Aucor have many years of industry experience in South African vehicle auctions. Acting as both the buyer and the seller and providing the necessary support and expertise to both parties.
Aucor opened in 1968, and now has 16 vertical sectors (the widest scope of all South African auctioneers). Twelve qualified auctioneers who work full-time for the company and have a combined total of over 150 years experience.
Aucor is also an auctioneer in the country that operates online auctions. With an international database of over 98,000 sellers and buyers. Probably a lot more as we speak.
Click Here to visit the Aucor website.
Wesbank Car Auctions
Wesbank car auctions in South Africa are possibly one of the most popular places to buy your new vehicle.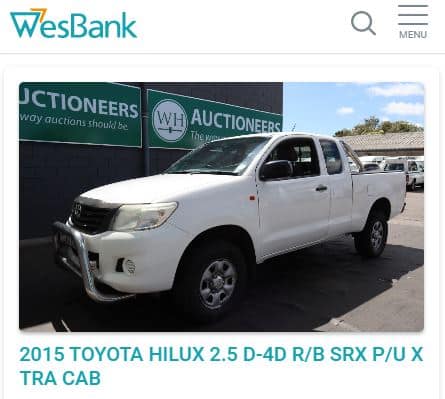 Their website is quite user friendly and will help guide you through registering and bidding if you are new to online car auctions.
Visit the Wesbank website to browse the cars for sale on auction.
In addition they can help you calculate your finance options for buying a vehicle at a Wesbank auction. Through their handy tool the Wesbank car finance calculator online.
This will help you to get quick car finance approval to buy your new vehicle.
Wesbank Bank Repossessed Cars Catalogues
You can view bank repossessed cars from Wesbank online in the catalogues available to download.
The Wesbank car catalogues offer you a list of repossessed cars for sale at the latest auctions.
If you are looking for bank repo cars under R40,000 you won't find a lot in that bracket unfortunately.
However there is quite a few Wesbank repossessed cars under R100,000 for sale at the auctions. You can see the lists of these cars available by viewing the online catalogues.
Wesbank car auctions are held once a week at locations in Johannesburg, Cape Town, Midrand, Durban and Port Elizabeth.
Autoworld Auctioneers
Autoworld auction cars, bakkies and minibus vehicles.
They were established in 1997, and focus on the distribution of fleet vehicles and moveable assets through auctions.
As a member of the South African Institute of Auctioneers (S.A.I.A), the staff at Autoworld Auctions have proven track records. They pride themselves on being reliable experts in their individual fields.
Autoworld Car Auctioneers are partners of blue chip companies such as Viamax Fleet Solutions and Value Truck Rental. In addition Avis Fleet Solutions, Ampath and IEMAS. They hold regular auctions at the Autoworld premises in Midrand Pretoria.
On their website you can download the latest vehicle catalogues to see a list of cars for sale at the auctions.
Visit the website Here. 
Bidvest Burchmores Car Auctions
Burchmores car auctions are another leading choice when you are looking for a new vehicle.
They offer both Burchmores online auctions as well as events in areas across South Africa.
The main locations for Burchmores car auctions are:
Cape Town
Durban
Johannesburg
Having been established in 1911, Burchmores is one of the oldest auction companies in South Africa. It is also the largest vehicle auctioneering company in the country.
The company is a subsidiary group of McCarthy. Which provides any prospective seller or buyer the peace of mind that they are dealing with a reputable company. And will receive reliable advice and services.
Since 1988 (the year they were acquired by McCarthy), Burchmores have auctioned off over 800,000 vehicles.
Click Here to visit the Bidvest Burchmores auctions website.
MFC Car Auctions
MFC car auctions are our next pick for leading vehicle auction events in South Africa.
The Motor Vehicle Corporation (MFC) is a division of Nedbank LTD. So they deal with the sales of Nedbank repossessed cars in South Africa.
You can browse and bid on hundreds of vehicles for sale and the added bonus is there is a finance representative on site. So you will be able to apply for MFC vehicle finance for the car that interests you.
It's a good idea to go to an MFC car auction before you are ready to bid on any particular vehicle.
Some tips to help you at an MFC car auction:
Sit and watch the process of the auction
Register yourself to become part of the event
Learn the bidding process
Learn when you should bid
Know when to stop bidding
Get to know the terms and conditions
To see a selection of vehicles for sale at the next MFC auction download and view the latest catalogue. You can get the list of vehicles from the MFC car auction catalogue from their website here.
This may also be of interest to you: Cars Repossessed from Absa, Standard Bank and Nedbank
City Wheels Car Auctions
City Wheels are another top choice for us in the world of vehicle auction sales.
It's another company that allow you to bid for and buy vehicles on or offline.
City Wheels online vehicle auctions are popular. You can view and bid on the latest vehicles directly from the City Wheels website.
City Wheels recognise that more cars today are sold on auction than by any other means worldwide. And took note of this trend in the early 1990s.
The company has now grown into one of South Africa's largest independent car auctioneers.
The City Wheels storage facility is located in Pretoria and is the largest car auctioneering warehouse in the country, housing over 150 vehicles on display one any given day, at any time.
Every month they sell over 300 vehicles and can arrange finance if you qualify through ABSA or Wesbank car finance.
SMD Car Auctions
SMD auctions sell cars on behalf of private individuals and major insurance companies.
There are SMD car auctions branches across South Africa in:
Boksburg
Cape Town
Chamdor
Durban
East London
Nelspruit
Polokwane
Port Elizabeth
Pretoria
Sandton
Vereeniging
They have a wide range of stock available (including salvage vehicles). For instance small sedans to luxurious 4x4s that are on offer nationwide, direct to the general public as well as auto traders.
As a company, SMD pride themselves on offering a cheaper alternative for people buying a vehicle, with cars selling at prices affordable to almost any pocket.
Click Here to visit the SMD vehicle auction website.
Capitec Car Auctions? No, Not in South Africa
Capitec car auctions are a term that comes up in our searches quite often so we feel the need to put the record straight.
At the time of the latest update there is no such thing as a Capitec bank car auction in South Africa.
However there is a Facebook page set up that advertises Capitec repossessed cars for sale. We think this is a false page set up to sell cars by capitalizing on the Capitec Bank brand.
Capitec bank car finance is available through loans but as far as we can see, they aren't selling repossessed cars at auctions.
If you have any information to the contrary concerning this please get in touch with us. And we will include information on Capitec car auctions here.
In Conclusion
One of the advantages of bidding and buying on auction is that the cars often sell for very competitive prices. Some cars have been repossessed by banks and other vehicle finance creditors.
The bank is not concerned with making a profit. Rather, they want to sell the vehicle off as quickly as possible to make up for any losses.
So check out the resources above from our list of the best car auctions in South Africa.
First have a look at the online car auctions before you go to a vehicle auction warehouse event.