You can buy accident damaged cars for sale in South Africa through a number of different sources. Here we take a look at places in the country where they sell vehicles that have got some damage.
Places where you can buy accident damaged cars in South Africa include:
Buy direct from the owner
Buy from a used car dealer
At online car auctions
Buy from car auction events
Buy at car scrapyards
Buying Accident Damaged Cars Direct From a Private Owner
You can buy a secondhand car that has been damaged in an accident directly from the private owner. However this comes both with advantages and disadvantages.
The Advantages
Firstly, you can save money and get the vehicle at a much better price than if you bought it from a dealer.
Secondly you can find out the history of the car from the owner. Such as service history and any previous problems with the engine or parts.
Lastly you will have more room to negotiate on price. Because the car has been involved in an accident the owner will often want to sell it quickly.
Therefore you will have the opportunity to agree on a price that suits both parties.
You may also find this interesting: 7 Best Car Auctions in South Africa
The Disadvantages
The first disadvantage to buying a damaged car direct from the owner is there will be no warranty. Because a private seller cannot arrange any kind of vehicle warranty whereas a dealer can.
So if the car has been badly smashed at the front this may have caused some damage to the engine.
If this is the case you may end up spending so much money on repairs that you may as well have bought a new car.
When you buy a car directly from a private seller you have to trust them. You cannot be sure if they may be lying to you about the history of the vehicle they own.
For instance imagine if you buy a car with cash direct from the private seller. Only to find out that they still owe the bank finance. This type of transaction can cause complications.
Buy Damaged Cars From Used Car Dealers
Another option in South Africa is to buy a damaged car at a used car dealer. There are dealerships everywhere that have cars for sale that have been involved in a crash.
The beauty of buying from a dealer is that you will get some kind of warranty option in the deal.
So if there is anything wrong with the engine after you purchase the vehicle you should be covered.
Many of the accident damaged vehicles for sale at car dealers have been bought from car auctions. The dealership has their teams fix the vehicle and they resell it for a profit.
However some cars that have been involved in a crash only have minor damage. Which brings us to your next option of where to buy a vehicle with damage. Car auctions.
Bid Online and Buy an Accident Damaged vehicle at Online Car Auctions
Online car auctions let you bid online for accident damaged vehicles. It works similar to a normal auction event where the highest bidder wins.
A popular place to bid for damaged cars online in South Africa is SMD Cars. They have regular online auctions that sell vehicles that have had a crash.
One of the areas that SMD specializes in is selling accident damaged cars.
We check their stock quite regularly and they always seem to have a decent selection of vehicles with some damage for sale.
Visit their website here for further information.
Buying a Damaged Car from a Car Auction Event
Car auction events are happening around the country on a weekly basis and are a good place to purchase damaged cars.
There's a long list of car auction companies in South Africa that sell vehicles with accident damage.
Car auction companies in South Africa include:
Bidvest Burchmores
Aucor Auctions
Park Village Auctions
Wesbank Auctions
Motus Auto Auctions
These are events that are happening at warehouses and large showrooms in the country.
Cars for sale at these events that have been involved in a crash can be viewed before the auction goes live.
However we recommend you take someone with you that has some knowledge on cars and mechanics.
Because this will help you in your buying decision and make sure you save money. And not buy something that's going to cost you thousands of Rands in repairs.
This may interest you: Burchmores Auction Cars in Johannesburg, Durban and Cape Town
Buy Accident Damaged Cars at Scrapyards in South Africa
Scrapyards in South Africa are another of the places where you can buy cars with accident damage.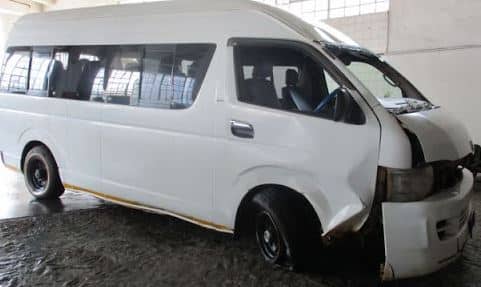 There are scrapyards all over South Africa selling vehicles with minor and major damage.
Some of the scrapyards are selling cars with little damage to a car that has been in a crash. So you can pick up a bargain at these places and with some minor repairs you can fix the damage.
Ace Auto Scrapyard is one such place and they have a handy website where you can browse damaged vehicles.
They have scrapyards in Cape Town, Gauteng and Mpumalanga. You can visit the Ace Auto Scrapyard website here for more information.
Do Insurance Companies in South Africa sell off Accident Damaged Cars?
No, as far as we know you cannot buy cars that have accident damage directly from the insurance companies.
Because either the vehicle gets written off and crushed at the scrapyards. Or the insurance company will have agreements with local car dealers that agree to buy the vehicles.
The insurance companies in South Africa are not interested in selling a damaged car direct to the general public.
In Summary
As we can see, you can save money if you buy a car that has previously been involved in a crash.
You have the different options of buying from a private seller or from the dealerships and car auctions.
However be cautious. Make sure the vehicle you buy hasn't been in a very bad accident. Because you could be buying a car that will cost you a lot more money for repairs in the long run.