Aftermarket car aircon regas and installation specialists can help you install and maintain any vehicle air conditioning system. Because it is important to get your cars system maintained and serviced by an aircon specialist to avoid any mistakes or flaws.
Get aftermarket car aircon regas and installation in:
Johannesburg
Pretoria
Centurion
Bloemfontein
Port Elizabeth
Kraaifontein
Durbanville
Cape Town
Brackenfell
Tableview
Some people think that it is possible and safe to regas an air conditioning system themselves. However it is probably a good idea to leave it to the experts.
Although it is a good idea to understand the system. So you know what the specialists are talking about. And referring to when they maintain, repair and re-gas your air conditioning system.
This may also interest you: Accident Damaged Cars For Sale in South Africa
How does a car air conditioning system work?
A vehicle air conditioning system works by regulating the air temperature within a vehicle. To maintain a comfortable driving environment for the driver and passengers of a vehicle.
This image shows you how a basic car aircon system works.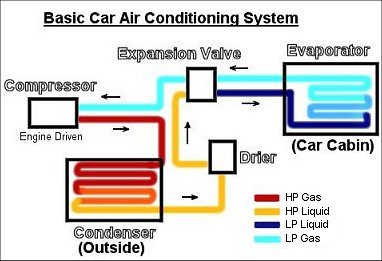 Because vehicles are made from metal and have glass along most of their sides, both the cold and the heat get in very easily. Therefore make driving in either very hot or very cold weather unbearable for both the driver and the passengers.
The air conditioning system helps to cool the car down in very hot weather by pushing the hot air outside of the vehicle. Then cleaning, cooling and drying any new air that comes in.
Usually, most car air conditioning systems are manual and you will have to turn them on yourself when you need them.
Some newer, more high tech cars now have automatic air conditioning systems that will work without any buttons being pushed. The system recognizes the air temperature and the climate and then will turn on automatically.
The temperature will decrease to a comfortable level and the vehicle will be more pleasant for both the driver and the passengers.
Aftermarket car aircon regas, maintenance & repairs
There are several ways that you can tell that your aftermarket aircon system may need servicing, regas or repairs.
For example if your air conditioning simply stops working it could need repair or re-gassing. And you will need an expert to check your vehicle out and tell you what is wrong.
Another common issue is that the air conditioning system is not getting cold enough. This is usually due to the fact that in winter, the air conditioning system is not used enough and the O ring seal dries out.
Another problem that a lot of people experience is that their air conditioning starts to smell bad whenever it is turned on. This is caused by a vehicle aircon that is not used frequently. When this happens, bacteria and mould can begin to grow within the system which could cause unpleasant odours.
This is quite a serious problem as it can also cause health issues for drivers and passengers. People can experience headaches and flu like symptoms, commonly referred to as sick car syndrome.
If your air conditioner begins making noise you do not usually have to worry. Clicking as the compressor pump turns on and off as it does its job is quite normal.
However, if the noise changes suddenly or becomes louder, you should definitely get your air conditioning system check out as it may be cause for concern.
If you notice a puddle of water on the floor in either the drivers or the front passenger's foot area, there is not usually a problem. Generally this is just the air conditioning condensation dripping out of the tube.
Aftermarket car aircon regas services
If you are looking for car air conditioning specialists and re-gassing service staff there are a great number of companies that will be able to help you with your air conditioning system.
Some of the companies that you can contact for aircon regas:
Air Con Repair Service
Cape Town Air Conditioning
Auto Air Con
Harrack and Dunair
We must point out that it is possible to re-gas the air conditioning system in your vehicle yourself using specific DIY kits that can save you money.
However we wouldn't recommend this unless you are confident you can do it.
To summarize
In summary we have learnt about aftermarket car aircon regas and maintenance services in South Africa.
So we can see that it's best to take your car to a company that specializes in air conditioning systems for vehicles. Therefore do your research on which of these companies is closest for you to take your vehicle to.
And you will be much more comfortable with the temperature in your car.