Vehicle auctions in Johannesburg sell bank repossessed cars from ABSA, Standard Bank, FNB and Nedbank. And are on a regular basis and becoming more popular as people look to buy a bargain on pre-owned models.
Burchmores in Sandton for example hold events about twice a week from their premises. Where the public can bid against each other for bank repossessions. Check for official dates and times of the auctions by visiting their website at burchmores.co.za.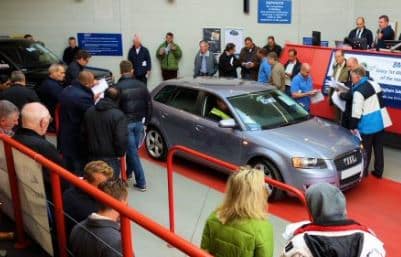 Some events are in the mornings and others are in the evening times. So as to give everybody who is looking to buy cars a fair chance.
Read More: Standard Bank Auctions for Repossessed Cars
If you have never attended vehicle auctions in Johannesburg and perhaps feel a bit unsure there is always friendly staff on hand at these events. They will help explain and guide the public through the process.
There are guidelines and rules to follow as well as tips and advice on how to bid against others. In an effort to get the cheapest price possible when buying a pre-owned vehicle that has been repossessed.
Finance at Vehicle Auctions in Johannesburg
Finance is usually available on the spot from some of South Africa's major vehicle finance providers. Such as ABSA, Standard Bank, Nedbank and FNB bank.
Lists of auction cars and bakkie's are available and a chance to view them and have a good look at the condition is often advisable. And can be done at least a day before an event.
No test drives are allowed but it is possible to have a good look at the outside for any accident damage and the interior. In addition, the engine, check the floor for any possible leaks. And potential buyers will be able to start the engine to listen for any problems there may be.
Remember, you buy these cars and bakkies "as seen". So if you are not clued up on mechanics it may just be a good idea to take a mechanic with you when off to visit vehicle auctions in Johannesburg. To buy a decent used car or bakkie.