WesBank auctions sell repossessed cars in Cape Town, Port Elizabeth, Gauteng, Bloemfontein and around South Africa. They offer in excess of one hundred vehicles for sale every week. You can view models as early as one day before an auction at the allocated warehouses. Viewing lots and finance can be arranged for those that need it prior to the event.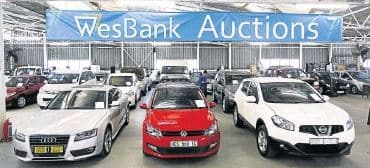 No cash is accepted at these events and a refundable bank guaranteed cheque is a necessary payment if you are interested in participating in the bidding.
Lists of vehicles being sold on the day should be taken as a guide only as the final catalogue at an auction event is subject to change.
If you've never attended WesBank auctions before. Or never bought a repossessed car for sale you will find the process fun.
There is an online guide that can be downloaded and printed out to help you. If you are unsure of the process.
Motor auction personnel are trained and experienced enough to help you when viewing makes or models on the day of an event.
Wesbank Auctions Buying Tips
A great tip if you feel a little intimidated about bidding. And not yet confident enough to take part in the process. Is to attend one or two events first as an observer to see how it all works.
Unlike at car dealers in South Africa, buyers are not permitted to test drive vehicles before an event.
We would advise that you take someone along with you. To help you inspect and evaluate things prior to an auction. Because it will help you in your decision making before bidding.
If you do your homework, it is possible to come away with a real bargain. And end up buying yourself a really cheap and reliable pre-owned vehicle.
So it is well worth putting in some initial research on prices at second hand motor dealers in your area.
Keep in mind that all vehicles sold are subject to VAT that gets added to an agreed bid after the hammer falls at a WesBank repossessed car auction.
Other Car Auctions in Cape Town and the Western Cape
Car auctions in Cape Town and the Western Cape are a great way to meet new people. And to purchase a used or bank repo vehicle for yourself or your loved ones.
Banks like ABSA, Standard Bank, Wesbank and Nedbank are all involved in auction events of reposessed cars.
You can get vehicles by a range of manufacturers. Including Toyota, Nissan and VW, and often you can pick up motorcycles by Mitsubishi as well.
Seeing a 'for sale' sign is truly promising. Because cars are extremely expensive in South Africa because of our limited production of them. The Western Cape is a beautiful province that is best explored on foot, by bike, or by car.
If you are living in the region and are interested in attending car auctions in Cape Town and the Western Cape. You can find out more information about them online or in your local newspaper.
Banks that hold Car Auctions
If you ask at your bank of choice, whether it is Wesbank, Nedbank, Standard Bank or ABSA, they will also be able to tell you where and when their next auction is happening. And may even be able to give you a list of all of the cars available.
That way if you're looking for a Toyota, you know not to go if they're only advertising Nissan, VW or Mitsubishi. If you are looking for additional finance in order to buy the car itself, it is imperative that you speak to your bank first. In addition, cars which are on sale come in a variety of conditions so it's a good idea to take a mechanic with you to check out the vehicle.
You don't want to be half way to Grabouw only to have your engine fall out. That being said, it's normally feasible to get a good deal at the Western Cape vehicle auctions in and around Cape Town city.